Designers
Welcome!
Enchantes
, is adapted from the word "Enchantez" which means
enchant
in French.
Enchantes
! Both of us have a strong passion and interest in designing and creating accessories.
We truly hope that you will enjoy browsing through our products and hand-made accessories, all of which have their own unique personal touch, and may our designs be appealing and enchanting to you.
Happy browsing! (:
How To Order
1. If you are interested in an item, do email us at
enchantes@gmail.com
! We will get back to you as soon as possible.
2. Email us your
Real Name
,
Contact Number
,
Home Address
,
Name Of Item(s)
,
Total Payment($)
, and
Preferred Method of Payment
.
3. We accept (1)
DBS/POSB bank atm transfers
and (2)
Concealed Cash/Postage
(at buyer's own risk). We also do meetups!
4.
Postage Fees
: Normal Postage (additional
SGD$1
), Registered Mail (additional
SGD$3
). *For purchases above $20, normal postage will be free. (:
5. Do note that we would not be responsible for any loss or damage of items through the normal postage. (Items will be be packed securely to prevent this.)
6. Products are non-refundable and can only be returned for fixing if they arrive broken or made wrongly.
7. Upon receieving your products, remember to take great care of them! Remember to keep them sealed in air-tight containers/bags when not in use.
8. If you are a satisfied customer and are happy with your product, why not drop us a note/testimonial through email? We would appreciate hearing from happy customers, and being able to make our customers happy would be a huge motivation for us. :)
Archives
Links
You can advertise your shops in the second tagboard below, so that we may link you. But we'll only link you if you do link us back! :)
AFFILIATES + LINKS!
Queries/Ads
Should you have any questions, please feel free to email:
enchantes@gmail.com
! or tag below!
(advertisements on the second tagboard please or they will be removed.)
Inquiries/Feedback:
Advertisements:
CREDITS
Blogskin:
ice angel
Tami! :)
Saturday, November 17, 2007
- Enchantes ;
Thursday, November 15, 2007
- Enchantes ;
Wednesday, November 14, 2007
SGD $3 (sold!)
-Starry starry eyed surprise! Use of pretty green gemstones and glossy star beads with lime coloured cube beads. (:

- Enchantes ;
Saturday, July 7, 2007
- Enchantes ;
Tuesday, June 26, 2007
- Enchantes ;
Wednesday, June 6, 2007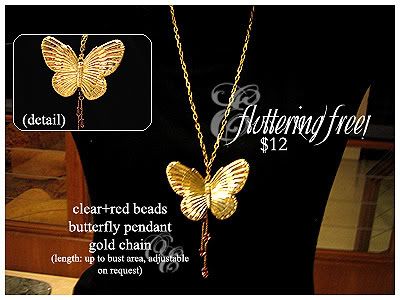 Fluttering Free
SGD$12 (sold!)
(1st remake sold!)
-Very bling-blingish! glam and pretty at the same time. :) smashing gold theme! Use of a gold butterfly pendant, gold chains, and transparent cube beads stained red in the middle. Hangs roughly around the bust area. Can be altered (lengthened/shortened) accordingly. :)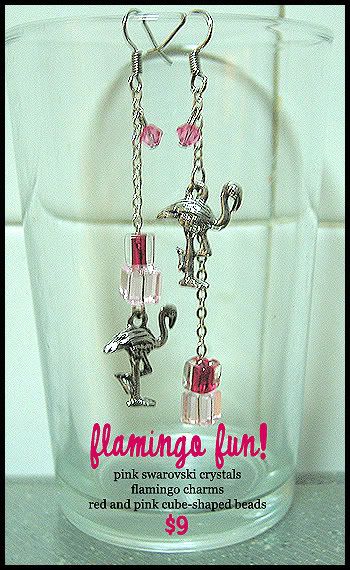 Flamingo Fun!
SGD$9 (sold!)
-Assymetrical. One of my personal favourites! I like it very very very much because it is pretty like that. :) Use of 2 pink swavaroski crystals at the top, 2 EXTREMELY CUTE flamingo charms, 2 cube beads paired together (red tinted and purplish pink tinted) with silver chains. :) dangly. VERY PRETTY. Hooks will be changed for hygiene purposes.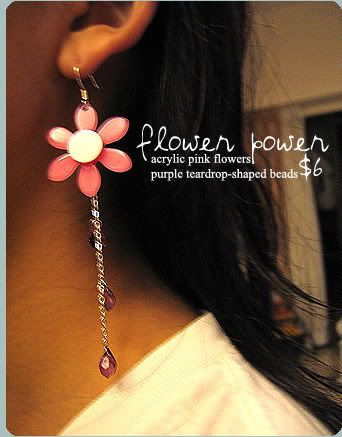 Flower Power!
SGD$6 (sold!)
-A retro feel, in a way. Very girly and eyecatching :) Use of acrylic pink flowers with 2 metal chains, teardrop purple crystals hanging down from it. Suh-weeeet!

- Enchantes ;